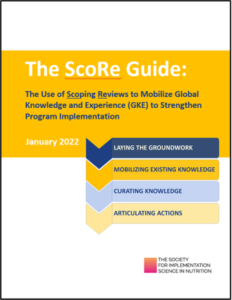 Within the ISS Operational Model, the literature review is an effort to see if existing global knowledge and experience might be adapted and used to address some of the identified bottlenecks. It also may help the design of implementation research studies to better understand certain bottlenecks or explore the feasibility of various solutions.
The ScoRe Guide assists users in adapting and applying a scoping review in the context of implementation science in nutrition.
The ScoRe Guide outlines a staged approach to the identification and review of scientific and grey literature to strengthen the utilization of existing knowledge in a timely manner. This approach involves:
Creating a team who can shape the objectives and desired products from a literature review, and make sense of the data;
Conducting the literature search per se, adapting the search strategy to the time and resources available;
Curating the knowledge to make it usable;
Using the Bottleneck and Solutions Inventory to tie the findings to action and identify appropriate programmatic changes based on the findings.