SISN Annual Reports
"The knowledge of how to prevent malnutrition, associated mortality and the perpetuation of cycles of poverty and economic stagnation already exists but poor implementation and low quality of service delivery remain major bottle necks for achieving scale and impact."
Lancet, 2008
"How to scale up programs, policies and interventions to address malnutrition effectively remains a persistent challenge at local, national and global levels. Simple evaluation of activity effectiveness is not enough, and there is a need for expanded use of implementation research in nutrition. This expansion must be combined with a shift in practices and incentives, and engagement with practitioners, global and national actors in the areas of health policy, management, research publication and civil society."
IRDS, 2014
"Nutrition research has historically focused on "what" to implement – there now is an imperative to focus on "how" to implement and to translate current momentum in nutrition into high quality and sustainable implementation and impact at-scale."
SISN 2016
In February 2015 and in response to the challenge of global malnutrition, a multisectoral team of the World's leading nutritional experts assembled in Lazio, Italy. Their purpose was to explore possible solutions to this far-reaching and highly complex challenge and the ultimate outcome was the publication of The Lazio Declaration (July 2016). The Declaration outlined their consensus on the need for a new body to provide much-needed direction on the how implementation science (IS) could support worldwide efforts to scale up nutrition. Thus, the Society for Implementation Science in Nutrition (SISN) was born with the 39 strong, Lazio team becoming its founding members.
SISN's core aim would be to radically advance the use of IS, and consequently nutrition impact, by becoming a conduit to facilitate the vital collaboration needed between all stakeholders, thereby pooling the collective knowledge, experience, resources and commitments of scientists and practitioners worldwide to greater effect.
In parallel with the development of the Declaration and the birth of the Society, the SISN Board, was already hard at work on developing SISN's 2016-20 Strategic Plan assisted by an ad-hoc committee. Published after external stakeholder review in 2016, the Plan details the Society's Vision and Mission, and outlines the goals that need to be achieved to bring these to fruition. SISN's Biennial Action Plan drills deeper into the details setting out the individual tactics and targets needed to achieve each goal.
SISN's progress is now measured against these targets and each year we are delighted to share our achievements with you in our Annual Report.
NEW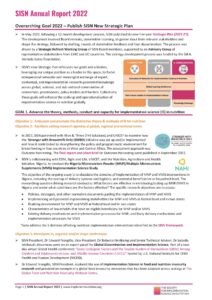 References:
IRDS. (2014). IRDS Statement on Advancing Implementation Research and Delivery Science. Launched at the Third Global Health Systems Research Symposium in Cape Town. Available from: http://www.healthsystemsglobal.org/the-irds-statement/
Shekar, M. (2008). Delivery sciences in nutrition. The Lancet, 371(9626), 1751.
The Society for Implementation Science in Nutrition. (2016). Strategic Plan 2016-20. Available from: https://www.implementnutrition.org/wp-content/uploads/2016/10/SISN-Strategic-Plan-2017-v2-MASTER.pdf