THE IMPLEMENTATION SCIENCE SYSTEM TOOLKIT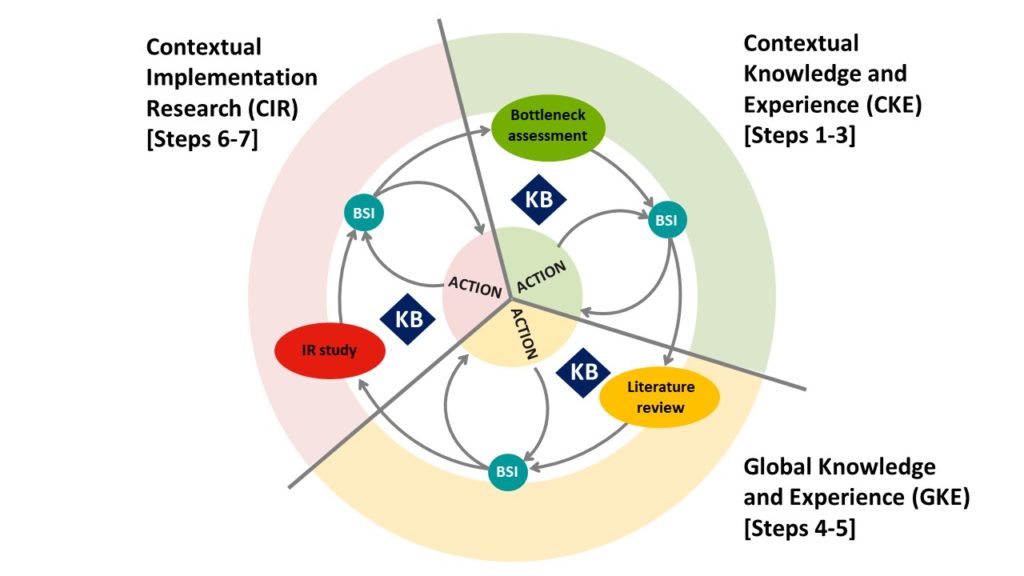 Implementation science (IS) is a systematic approach to address implementation bottlenecks in order to strengthen programmatic coverage, quality and impact.
The Implementation Science System (ISS) Operational Model has been developed to assist implementers and decision-makers in low- and middle-income settings to apply IS and build the capacity needed for these endeavors.
Read more about the development of the ISS Operational Model here
Check out this short videos to learn more about the Implementation Science System Toolkit and how to use it in your work!
The Toolkit is a living resource and is intended to evolve and be strengthened with additional information and materials.
The Toolkit draws upon existing knowledge about IS from the literature, experience gained during the Implementation Science Initiative (ISI), validation with country actors and a theory-based developmental evaluation embedded within ISI.
The current Toolkit consists of:
(click on the images below to learn more about each tool)
The ISS Toolkit emerged from the experiences and findings of the Implementation Science Initiative (ISI).
The Implementation Science Initiative was conducted in 2018–2021 to improve iron and folic acid supplementation (IFAS) for pregnant women in Kenya and Uganda. The ISI provided an opportunity to generate knowledge concerning challenges and strategies in operationalizing an implementation science approach in low- and middle-income country settings.
Acknowledgments
The ISI and development of this ISS Toolkit was carried out as part of a partnership between SISN and the International Initiative for Impact Evaluation (3ie) with financial support from the Bill & Melinda Gates Foundation.
SISN Project Leader: David Pelletier (ex-officio Board Member)
SISN Project Team: Isabelle Michaud-Létourneau, Marion Gayard, Gretel Pelto
SISN Secretariat: Caroline Skirrow, Naomi Cahill, Ariane Escritt
The ISS Toolkit may be copied in any form and used for non-commercial purposes provided that it is clearly indicated that SISN is the originator of this material. 
Feedback
We welcome your thoughts, comments and questions on the ISS Toolkit. Please send any feedback to: info@implementnutrition.org.