How are we working to achieve our goals
Our work towards achieving our five key goals (see right) involves initiating, running and reporting on a host of projects across the Society via joint initiatives, working groups and committees. (Further details of how we've broken down the goals into smaller projects and prioritised them can be found on page 18 of our Strategic Plan).
Responsibilities to drive these activities are currently allocated to the Secretariat and SISN's Board, but ultimately many activities will be designated to an evolving portfolio of experts and ambassadors drawn from the Society's diverse membership and beyond. We post such opportunities in the Get Involved section of this site and via our newsletter.
Goals, highlights and teams for our current initiatives can be found below (click on the + signs below to reveal the full details).
Details of our past initiatives can be found here.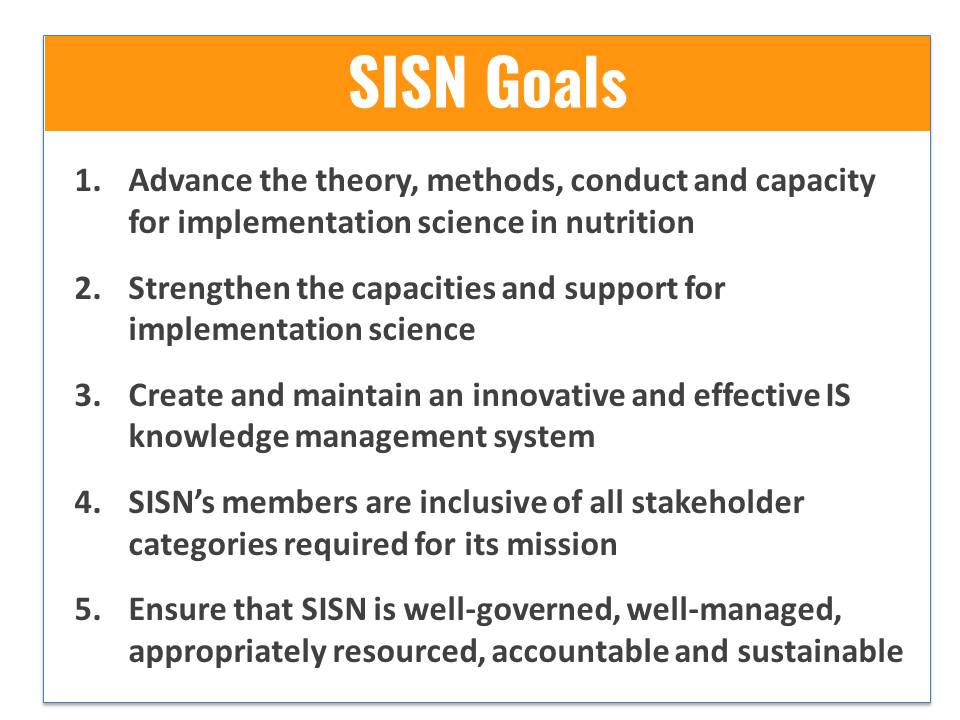 Nigeria Micronutrient Powder (MNP)/Multiple Micronutrient Supplements (MMS) Implementation Science Study
SISN is collaborating DSM, Sight and Life, United Nations Children's Fund, the Nigeria Federal Ministry of Health, the University of Ibadan, and the Nutrition, Agriculture and Health Initiative, Nigeria to conduct the Nigeria Micronutrient Powder (MNP)/Multiple Micronutrient Supplements (MMS) Implementation Science Study.
Nigeria is a high burden country for micronutrient deficiencies. Although a range of micronutrient deficiency control (MNDC) programmes have been initiated across the country, implementation is inadequate, and coverage is low and unequal across population groups. Interventions being implemented include large-scale IFA and vitamin A supplementation (VAS) of women and young children, respectively; mandatory and voluntary food fortification programmes; biofortification of staple foods; promotion of consumption of foods rich in micronutrients; and control of helminthic infections and malaria. Intervention coverage is generally lower among the poor and in the northern zones of the country.
A national MNP programme commenced with a pilot phase in 2015 and is currently being scaled up, while a pilot phase for a national MMS programme is currently being planned. The World Health Organization (WHO) guidelines for both MNP and MMS explicitly call for implementation research to direct intervention rollout and scale-up. The goal of implementation research, as part of micronutrient supplements' delivery, is to determine how to ensure the acceptability of the supplement by the target beneficiaries; most appropriate distribution channels; contextually appropriate behaviour change communication strategies; cost-effectiveness; and factors necessary for intervention sustainability. The proposed implementation research responds to the call by WHO.
The overall objective of the study is to elucidate the domains of implementation of MNP and MMS interventions in Nigeria, including the overlap of delivery systems and logistics, and potential beneficiaries at household level. The overarching question driving the conduct of the research is: What factors are effective in introducing/scaling up MNP/MMS in Nigeria and under what conditions are the factors effective? The specific objectives of the research are to assess:
Policies, strategies, and other normative documents guiding the implementation of MNP and MMS
Implementing and potential implementing stakeholder (organizations and individuals) for MNP and MMS at federal level and in two select states
Enabling environment for MNP and MMS at federal level and in two states
Characteristics of households that have an eligible beneficiary for MNP and/or MMS
Existing delivery mechanisms and implementation processes for MNP, and likely delivery mechanisms and implementation processes for MMS
These specific objectives address the 5 domains affecting implementation of nutrition interventions identified in the SISN Framework.
Collaborating organizations, including SISN, have contributed to the overall design of the study and will provide general oversight for the study. Core project activities will be implemented by the national project team supported by a Technical Advisory Group (TAG) appointed by SISN.
The project will collect and analyze data using mixed methods.
The project is expected to be completed within a 12-month period.
Milestones and Achievements
2022
Core national team created and terms of reference developed
6 member Technical Advisory Group convened
Project Leader
National Project Team
Salisu Abubakar
Olufolakemi Anjorin
Oluwaseun Ariyo
Muhammad Auwal
Amina Shehu
Olutayo Toromade
Edikan Uwatt
SISN Technical Advisory Group
Megan Bourassa (Chair)
Shannon King
Chowdhury Jalal
Audrey Tierney
Deborah Benneth
Mohammed Aji Yerima
Outcome Harvesting Evaluation of the Stronger With Breastmilk Only (SWBO) Initiative
In November 2019, a Regional Initiative called 'Stronger with Breastmilk Only (SWBO)' was launched to support countries in West and Central Africa to strengthen, promote, and support exclusive breastfeeding and achieve the World Health Assembly target of 50%. The SWBO Initiative developed by UNICEF, Alive & Thrive and the World Health Organization, promotes giving babies breastmilk only, on demand (day and night), and stopping the practice of giving water (and other liquids and foods), from the moment of birth through the first six months of life. The SWBO initiative responds to the call of the Global Breastfeeding Collective, a global partnership to increase political commitment, investment and policy change to support breastfeeding. Learn more about the SWBO initiative at www.breastmilkonly.com.
In 2022, SISN partnered with A&T and UNICEF to examine how the SWBO initiative was set up and/or implemented and how it contributed to strengthening the policy and programmatic environment for breastfeeding in four countries in West and Central Africa. The approach used to carry out this assessment was Outcome Harvesting.
Milestones and Achievements
2022
Outcome Harvesting assessment completed (August 2022)
Final report and short brief on Outcome Harvesting completed (September 2022).
SISN Project Leader
Isabelle Michaud-Létourneau (SISN Senior Technical Advisor)
SISN Project Team
Marion Gayard
Jacqueline Wassef
Collaborators
Manisha Tharaney
Nathalie Likhite
Arnaud Laillou
Aita Cissé
Simeon Nanama
Strengthening Global Nutrition Impact Through Collaboration
SISN has partnered with Nutrition International (NI) on a joint initiative entitled 'Strengthening Global Nutrition Impact Through Collaboration'. The partnership will involve a number of activities aimed at supporting individuals and organizations to make greater use of implementation science to improve their own implementation and impact.
Specific activities under this Memorandum of Understanding include:
Webinar Series: The series will focus on topics relevant to NI programs and workforce development needs.
Implementation Research (IR) Methods: This activity aims identify, develop, curate, package, disseminate and/or build capacity for a variety of implementation research methods suitable for NI field programs.
Internship Program
Milestones and Achievements
2020
Core team created and terms of reference developed for webinar series
Completion of first webinar focused on scaling up pulses fortification (Dec 2020)
Project Leader
Chowdhury Jalal (SISN Councilor and NI)
Project Team
Naomi Cahill (SISN Communications)
Mduduzi Mbuya (SISN Chief Information Officer)
Edward Frongillo (SISN President)
Mandana Arabi (NI)
SISN Committees and Working Groups
The Executive Committee support the President by participating in strategic planning. They are responsible for overseeing the implementation of the strategic plan and board policies, and making sure that the board and working groups are establishing and maintaining good governance practices. The Executive Committee also replaced the Finance Committee in providing oversight on the Society's finances. The Executive Committee addresses pressing issues, prioritizes items for the full board to address, and reports their activities to the board.
Committee Chair
Edward Frongillo (SISN President)
Members
Peggy Bentley (SISN Past President)
Rebecca Heidkamp (SISN Vice President)
Megan Bourassa (SISN Treasurer)
Caroline Skirrow (SISN Chief of Operations)
The Finance Team is responsible for the day to day financial management, and hold regular meetings to discuss the Society's financial matters.
Team Chair
Megan Bourassa (SISN Treasurer)
Members
Caroline Skirrow (SISN Chief of Operations)
Altruic Advisors (SISN CPA/Bookkeepers)
Strategic Refresh Working Group
A Strategic Refresh Working Group was created and charged with driving the strategic planning process forward with the goal of developing a new five-year strategic plan for SISN.
Milestones and Achievements
2021
Process and timeline established (July)
Strategic Refresh Advisory Group formed and convened (November)
Listening phase completed. Conduct of focus groups and  one-on-one virtual interviews with stakeholders representing different geographies, organization types, and professional roles  (December)
2022
Evaluation of data from listening phase, drafting of new strategic goals and activities  (January to March 2022)
WG Chair
Edward Frongillo (SISN President)
Rebecca Heidkamp (SISN Vice President)
Members
Chowdhury Jalal
Mduduzi Mbuya
Andrea Warren
Megan Bourassa
Shannon King
Caroline Skirrow (SISN Chief of Operations)
Naomi Cahill (SISN Director of Communications)
Communications Working Group
The role of the Communications Working Group of SISN is to formalize and diversely disseminate messages that succinctly capture the mission, vision and strategic plan of the Society and add value to it's audiences. Specifically to:
Provide direction on the communications strategy and planning
Enhance the visibility and image of the Society and support the drive for membership and the delivery of value to the Society's different audiences
Ensure that the Society is at the forefront of the IS/IR nutrition agenda and collects and disseminates up to date, high-quality and relevant information in an appropriate and timely fashion
Oversee the delivery of the communications activities with the development of relevant content for the Society's communication channels.
Milestones and Achievements
2021
Published 8 blogs and news items
Hosted 1 open-access webinar
Reached over 1,126 subscribers with the redesigned SISN quarterly newsletter 
Partnered with a team of students from Stuttgart Media University, Germany, as part of the Google Non-profit Marketing Immersion Program to set up and implement a Google Ads campaign
2020
2019
Published 10 blogs
Hosted 4 webinars
Launched the IS Knowledge Hub searchable online database
Achieved over 16,000 clicks to the SISN website
Reached more than 750 people with the SISN quarterly newsletter
2016-Ongoing
Develop and implement a communications strategy and content plan
Maintain and update the SISN website
Host an interactive webinar series
Disseminate a quarterly newsletter including recent SISN news and resource round-up section
Have an active presence at live events e.g. ASN
Engage with SISN members through surveys, webinar attendance, guest blogs, etc
WG Chair
Naomi Cahill (SISN Communications)
Members
Mduduzi Mbuya (SISN Chief Information Officer)
Caroline Skirrow (SISN Chief of Operations)
Technical Advisory Group (Nigeria MNP/MMS Implementation Science Study)
The role of the TAG will be to provide technical assistance to the Principal Investigator (PI) for the duration of the initiative. Members of the TAG will be expected to:
Review the research protocol (and any protocol modifications) and suggest possible improvements
Ensure that data collection and analysis methods are generally suited to research objectives
Periodically engage with data collection and analysis team to ensure that research is progressing as planned
Review research outputs and provide feedback
Agree to be included in protocol that will be submitted to the National Research Ethics Committee
Providing relevant resources e.g., highlighting key materials/research; sharing hard-to-reach documents
Support the PI to deliver at least one article for publication in a peer-reviewed journal.
See Current Joint Initiatives (above) for further project details.
TAG Chair
Megan Bourassa (SISN Treasurer)
Members
Shannon King
Chowdhury Jalal
Audrey Tierney
Deborah Benneth
Mohammed Aji Yerima
SISN co-hosted a virtual event Delivering for Nutrition (D4N) in South Asia: Implementation Research in the Context of COVID-19 (December 1-2). Dr Margaret Bentley (SISN President) presented during the opening plenary session, sharing her insights on the impact of COVID-19 on the health and nutrition of women and children.
During the CORE Group Global Health Practitioner Conference 2021, January 27-28th, SISN hosted a 30-minute interactive panel discussion entitled "Delivering Nutrition Programs at Scale: Using Implementation Science to Strengthen Design and Delivery of Adolescent Nutrition Programs"
At the American Society of Nutrition's Nutrition Live Online, June 1-4, SISN facilitated an interactive session: Covid-19 and Program Implementation: Implications for Implementation Science

During Micronutrient Forum Connected, November 2-20, SISN hosted a Learning Center entitled "Challenges and Lessons Learned in Delivering Nutrition Programs at Scale: Examples of Balancing Implementation and Science in India and Kenya"
At the American Society of Nutrition's annual meeting, Nutrition2019, in Baltimore, June 8-11, SISN facilitated a workshop on Implementation Science.
At the Agriculture, Nutrition and Health (ANH) Academy Week in Hyderabad, India 24 – 28 June, SISN facilitated a Learning Lab on Implementation Science in Nutrition
N.B. This information will be periodically updated to keep you posted on our achievements and mark our progress towards our goals. Last updated on September 13th, 2022.