How we are working to achieve our goals
Our work towards achieving our five key goals (see right) involves initiating, running and reporting on a host of projects across the Society via joint initiatives, working groups and committees. (Further details of how we've broken down the goals into smaller projects and prioritised them can be found on page 18 of our Strategic Plan).
Responsibilities to drive these activities are currently allocated to the Secretariat and SISN's Board, but ultimately many activities will be designated to an evolving portfolio of experts and ambassadors drawn from the Society's diverse membership and beyond. We post such opportunities in the Get Involved section of this site and via our newsletter.
Goals, highlights and teams for our current initiatives can be found below (click on the + signs below to reveal the full details):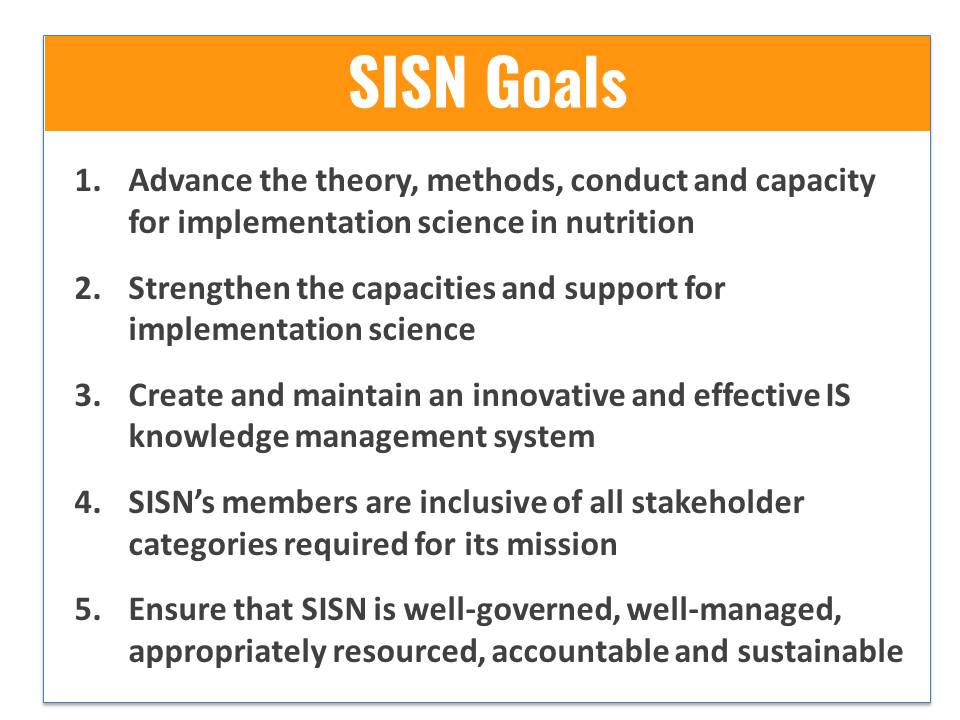 Joint Initiatives
KI3 was launched at the end of 2016 through a collaboration among the Scaling Up Nutrition (SUN) Movement Secretariat the International Food Policy Research Institute (IFPRI) and the SISN. The overall aim of this initiative is to strengthen the availability, access and utilization of implementation knowledge to accelerate progress in scaling up implementation and impact on nutrition.
In 2017, the initiative undertook a mapping exercise of implementation knowledge initiatives and organizations at the global level and scoped possibilities for strengthening the access to and utilization of implementation knowledge from these global sources in SUN countries. In 2018/19, the initiative will implement a series of activities whose overarching vision is to create a network of organizations at global and national levels willing and able to respond to the diverse needs and requests for implementation knowledge assistance from SUN countries and to help countries share knowledge, methods, and experience on implementation amongst one another. The work in 2018 has four objectives:
Establish a Network of Implementation Knowledge Providers: KI3 will convene discussions with the United Nations Network for Nutrition, the Civil Society Network (CSN), the SUN Business Network and the members of the Technical Assistance for Nutrition (TAN) project (MQSUN+, NI-TAN, ENN) to build on shared interests and priorities to strengthen the availability, access and utilization of implementation knowledge.
Expand and Strengthen the Role of Civil Society Organization (CSO) and Alliances, and other actors at country level, in Technical Assistance (TA) and Knowledge Brokering (KB).
Document and Share the Practical Realities and Good Practices of TA and KB, including the creation of an architecture for a SUN-specific toolbox to meet the identified challenges of SUN countries.
Strengthen Implementation Research (IR).  Stakeholders will be engaged to identify ways to strengthen the capacity, practice and funding for context-specific IR and other ways to engage the research and academic communities in SUN efforts (e.g., via TA and KB).
The insights and progress emerging from these activities will be shared with the broader SUN movement through webinars in 2018/19, the FAO/IFPRI Global Event in Bangkok in November 2018 and the SUN Global Gathering in 2019.
Project Leader
Project Team
Patrizia Fracassi (SUN)
Stuart Gillespie (IFPRI)
Isabelle Michaud-Letourneau (SISN –  Sr. Technical Expert)
Rajul Pandya-Lorch (IFPRI)
Roos Verstraeten (IFPRI)
Sivan Yosef (IFPRI)
Milestones and achievements:
SISN Framework and Classification Scheme for Implementation Science (IS) in nutrition developed (with input from a broad range of experts including many Founding Members).
New framework shared via SISN communication channels, seminars and symposia eliciting very positive responses.
Minor amendments made to the framework and classification scheme in response to peer feedback.
Paper on the new framework and classification submitted to peer review journal (publication to be confirmed).
SISN has partnered with the International Initiative for Impact Evaluation (3ie) under a Bill & Melinda Gates Foundation (BMGF) grant to improve implementation and scaling-up of anemia control programs for women in Kenya and Uganda.
The Implementation Science Initiative seeks to apply an implementation science (IS) approach and create a galvanized coalition of policymakers, program actors, and researchers in each country in order to strengthen anemia control programs during implementation. The initiative will provide the opportunity to learn how to build the capacity for and practice of IS through a facilitated process of learning-by-doing.  The goal is to strengthen program implementation by:
a)  closing a knowledge utilization gap by integrate existing evidence into policy and programmatic decisions through technical assistance, mentoring and knowledge brokering
b)  when necessary, conducting practical implementation research (IR) in the form of rapid assessments, operations research, process evaluation or other exercises, as appropriate to address the critical challenges facing implementers and policymakers.
3ie and SISN have partnered with URC in Uganda and FHI360 in Kenya to provide the implementation arena for the initiative. In each country, a core team was created and include a senior nutrition expert from an NGO, a senior Ministry of Health nutrition official, researcher(s) and a project manager/knowledge broker. More specifically, the core team members will work together to:
Identify implementation bottlenecks in the selected program
Facilitate access to and utilization of existing knowledge to address them, when possible
Conduct IR and facilitate the use of findings, when necessary;
Facilitate capacity building for IS/IR, through learning-by-doing
Cultivate interest in IS/IR within the larger nutrition community in the country.
Project Leader
Project Team
Marie-Eve Augier (3ie)
Anna Heard (3ie)
Isabelle Michaud-Letourneau (SISN Consultant)
Eva Monterrosa (SISN Treasurer)
Sara Pacque-Margolis (3ie)
SISN Working Groups
SISN Committees
SISN Board members are elected every two years by all full members of the Society. The next Board term is Jan 2019 to Dec 2020.  The Election Committee is responsible for:
Overseeing the nomination process and reviewing and accepting the nominations
Administering the slating of successful candidates into a voting platform
Ensuring full engagement with SISN members at all relevant stages of the process using all appropriate communications channels.
Committee Chair
Eva Monterrosa (SISN Treasurer)
Project Team
Gilles Bergeron (SISN Councilor)
Stephanie Lee Martin (SISN Member Volunteer)
Marija Silinskiene (SISN Operations Coordinator)
Caroline Skirrow (SISN Consultant)
The role of the finance committee is to provide financial oversight for SISN. Typical task areas include budgeting and financial planning, financial reporting, and the creation and monitoring of internal controls and accountability policies. In addition to developing an annual budget, the committee also sets long-term financial goals.
Committee Chair
Mandana Arabi (SISN Vice President)
Project Team
Mark Fryars (SISN Member Volunteer)
Eva Monterrosa (SISN Treasurer)
Marija Silinskiene (SISN Operations Coordinator)
Suzanne Wisor (SISN Bookkeeper)
N.B. This information will be periodically updated to keep you posted on our achievements and mark our progress towards our goals.