Regional conference brings together stakeholders to support efforts to improve population-wide nutrition impacts of COVID-19
South Asia holds the key to the Sustainable Development Goals – with large numbers of people, it carries a paradoxical combination of a high burden of malnutrition as well as numerous examples of successes in tackling malnutrition. The COVID-19 pandemic has slowed down the region's steady progress towards improving nutrition, but as the region enters a new phase of tackling the pandemic itself – with lower cases than before, high rates of vaccination, and returns to economic progress, there is no time like the present to discuss how to turn the tide on malnutrition.
The 4th edition of implementation research conference in nutrition and the first ever regional conference on nutrition programming in the context of COVID-19, researchers, policymakers, program implementers from across the South Asia region gathered on Dec 1-2 virtually. They discussed new insights on the impact of COVID-19 on maternal health and young child nutrition outcomes, coverage of essential services, and learnings on strengthening nutrition program delivery and uptake in crisis contexts. Participants shared evidence, insights, and analysis from on the ground research and implementation experiences to provide practical solutions for policymakers and program implementers to act upon locally, nationally, and regionally.
Reflecting on the essence of the conference, SISN's Recruitment, Engagement & Outreach Councilor, Dr Purnima Menon, who was part of the conference secretariat said,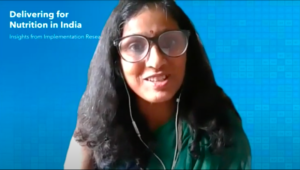 "In 2021 we live in a context where a virus reminded us of our shared humanity and of the futility of political and geographic boundaries. The region faces many forms of malnutrition, stunting, wasting, burden of anaemia, overweight and obesity and NCDs. This conference is a platform to bring learnings and experiences together along one thread, COVID-19 and nutrition to enable collective action. Together, I believe we can learn and improve many lives still hanging in the balance".
The COVID-19 pandemic has severely impacted marginalised vulnerable communities in low- and middle-income countries, including pregnant and lactating women and young children across the South Asia region. This context presents both an urgent need to distil emerging evidence from program adaptations and an opportunity to advance innovation and efficacy in implementation during the ongoing response to COVID-19 and beyond.
Global nutrition experts including SISN's President, Dr Margaret Bentley, shared global and regional insights on impact of COVID-19 on health and nutrition of women and children during the opening plenary session. You can watch Dr Bentley's presentation here:
Abstracts were invited from across South Asia region on research studies and implementation experiences, explicitly focused on COVID-19, and related to implementation, coverage, and quality of maternal and child health and nutrition interventions/programs and of social safety net programs.  Research studies examined the impact of COVID-19 on infant and young child feeding practices, diet quality, food security, nutritional status, and other outcomes.  A total of 27 oral and 45 poster presentations were programmed under the following themes – impacts on nutrition outcomes, disruptions, and adaptations to nutrition programs, impacts on food security and the role of safety net programs. The conference also hosted learning workshops on conducting phone surveys and measurement of food insecurity in the context of COVID-19.
The closing session for the conference featured a policy panel with leading policymakers in nutrition from Bangladesh. Closing the conference, the World Bank's global lead on nutrition, Meera Shekar noted: "The pandemic has reminded the nutrition community again about the importance of food security and of the role of social safety net programs and universal health care play; it is imperative that the nutrition community stays strongly engaged in actions in these three areas."
The conference outputs will be published on the Delivering for Nutrition in South Asia website soon.
Thanks to IFPRI's flagship nutrition initiative in India, POSHAN for inviting us to be a co-host for the conference. We also acknowledge the contributions of the other 13 co-host organizations, including Aga Khan University (Pakistan), Alive & Thrive (India), Bill & Melinda Gates Foundation (BMGF) (India), Helen Keller International (HKI) (Nepal), IDinsight (India), Institute of Policy Studies (IPS) (Sri Lanka), International Centre for Diarrhoeal Disease Research, Bangladesh (icddr,b) (Bangladesh), International Food Policy Research Institute (IFPRI) (South Asia), National Institute of Nutrition (NIN) (India), NITI Aayog (India), Standing Together for Nutrition (STfN) (Global), UNICEF Regional Office for South Asia (ROSA) (Regional), World Health Organization South
We welcome your thoughts, comments and questions on this topic. We'd be interested in hearing the key issues you're facing due to the COVID-19 pandemic, and what you're learning in the current context that will inform implementation practice or research in the future. Please reach out to: info@implementnutrition.org, as we would love to continue this conversation. We also encourage you to share the D4N2021 conference outputs with anyone who may find it of interest and be interested in future SISN events.