Case-studies of the Stronger With Breastmilk Only (SWBO) Initiative in West and Central Africa
Advances on policy and programmatic environment for breastfeeding have been achieved and the work needs to continue towards the implementation of the SWBO Initiative!
In November 2019, a Regional Initiative called 'Stronger with Breastmilk Only (SWBO)' was launched to support countries in West and Central Africa to strengthen, promote, and support exclusive breastfeeding and achieve the World Health Assembly target of 50%. The SWBO Initiative developed by UNICEF, Alive & Thrive and the World Health Organization, promotes giving babies breastmilk only, on demand (day and night), and stopping the practice of giving water (and other liquids and foods), from the moment of birth through the first six months of life. The SWBO initiative responds to the call of the Global Breastfeeding Collective, a global partnership to increase political commitment, investment and policy change to support breastfeeding.
In 2022, SISN partnered with A&T and UNICEF to examine how the SWBO initiative was set up and/or implemented and how it contributed to strengthening the policy and programmatic environment for breastfeeding in four countries in West and Central Africa (Democratic Republic of Congo (DRC), Senegal, Sierra Leone, and Chad).
The approach used to carry out this assessment was Outcome Harvesting, which involves identifying changes and then looking back to determine if and how a project or an intervention contributed to those changes. An accompanying Brief on Outcome Harvesting was developed as a valuable resource for those interested in learning more about this evaluation approach. An analytical lens, the Breastfeeding Gear Model (BFGM), was applied to provide insight into countries' advances in relation to the policy and programmatic environment for breastfeeding. The support for country actors provided by the Regional level was also examined to identify what had most helped actors in countries.
The final report presents a series of case studies summarizing the results of this evaluation. With the constant support of the Regional Team, which took different forms, the 4 participating countries made significant progress in the setting up of the initiative. SWBO has generally helped to reinvigorate or galvanize country efforts around exclusive breastfeeding, and several notable advances in the policy and programmatic environment around breastfeeding have been observed in each country. As many of them now find themselves in the crucial implementation phase of the initiative, they look forward to continued valuable support from the Regional Team to maintain their momentum.
Read the Report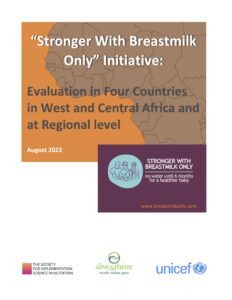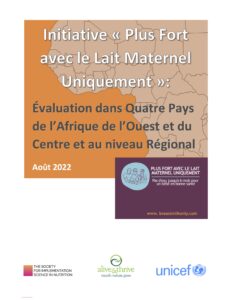 Download – English                                                Télécharger – Français
Additional Resources
We welcome your thoughts, comments and questions on this work. Email us: info@implementnutrition.org.