WEBINAR: From Innovation to Scale Up: Potential of pulses fortification to improve micronutrients malnutrition in Nutrition International's program and beyond
In this webinar, co-hosted with our colleagues at Nutrition International (NI), a team of technical experts share their research and implementation experience on scaling up pulses fortification, including achievements thus far in lentil fortification.
On December 15th over 140 attendees signed in to the live event and heard three guest speakers, Manpreet Chadha from NI, Albert Vandenberg from the University of Saskatchewan, and Corinne Ringholz from the World Food Programme, highlight the growing global landscape for pulses fortification, including:
Why pulses make a great vehicle for fortification from a technical and consumer perspective.
How to leverage different platforms and integrate into social protection programmes.
The applicability of lessons learned from rice fortification.
An exploration of future opportunities.
Following these presentations, Chowdhury Jalal, Senior Technical Advisor at NI and SISN's Continuous Education and Capacity Building Councilor, facilitated a lively panel discussion with these six experts: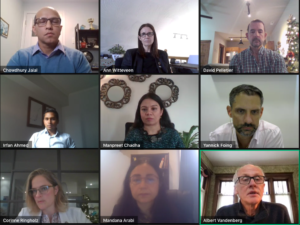 Mandana Arabi, Vice President, Global Technical Services, Nutrition International
Ann Witteveen, Vice President, Program Operations, Nutrition International
Irfan Ahmed, Director of Strategy, Nutrition International
Yannick Foing, Global Director – Nutrition Improvement, DSM
David Pelletier, Past President, Society for Implementation Science in Nutrition
SM Mustafizur Rahman, Line Director, National Nutrition Services, Institute of Public Health Nutrition, Government of Bangladesh
Finally, the audience had the opportunity to pose their own questions to the guest speakers and panelists. A separate blog highlighting these insightful questions and responses is forthcoming.
We are pleased to share a FREE recording with you, as well as a PDF version of the slides (Introduction, Presentation 1, Presentation 2, Presentation 3).
We hope that you find the webinar informative. We welcome your thoughts, comments and questions on the topic or the webinar itself. Please send any feedback to: info@implementnutrition.org. We also encourage you to share this webinar with anyone who may find it of interest.
Look out for details of upcoming webinars in this collaborative series here.
Permission for Use: This webinar and the associated pdf version of the slides may be copied in any form and used for non-commercial purposes provided that the content of any copy is not altered and, it is clearly indicated that NI/SISN is the originator of this material.
'Strengthening Global Nutrition Impact Through Collaboration' is a partnership between SISN and NI involving a number of activities aimed at supporting individuals and organizations to make greater use of implementation science to improve their own implementation and impact. You can read more about this joint initiative here.