Strengthening Global Nutrition Impact Through Collaboration: SISN Partners with Nutrition International
We are excited to announce that Nutrition International (NI) and the Society for Implementation Science in Nutrition (SISN) are partnering on a joint initiative entitled 'Strengthening Global Nutrition Impact Through Collaboration'. The partnership will involve a number of activities aimed at supporting individuals and organizations to make greater use of implementation science to improve their own implementation and impact.
The first activity is a 90-minute webinar scheduled for Tuesday, December 15th at 10am EST.  Don't miss this opportunity to join a team of technical experts and hear about their research and implementation experience on scaling up pulses fortification, including achievements thus far in lentil fortification.
The three presentations will highlight the growing global landscape for pulses fortification, including:
Why pulses make a great vehicle for fortification from a technical and consumer perspective.
How to leverage different platforms and integrate into social protection programmes.
The applicability of lessons learned from rice fortification.
An exploration of future opportunities.
Following the presentations, a panel of experts will reflect upon the information shared through different lenses. Participants will then have an opportunity to pose their own questions in an open 20-minute question and answer period.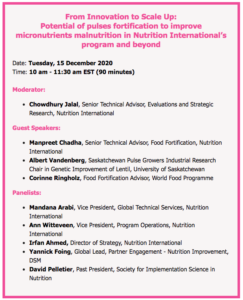 This webinar is FREE thanks to support from Nutrition International and is open to anyone who is eager to learn more about how to apply implementation science in practice and research.
Sign up today to save your spot! We hope you can participate in these important discussions live, but if you are unable to attend, a recording will be made available on the SISN website.