Special Issue of Maternal and Child Nutrition Dedicated to Implementation Research
A recently published special supplement of Maternal and Child Nutrition draws attention to the role of Implementation Science and Research in supporting efforts to effectively scale-up and sustain Micronutrient Powder (MNP) programs in low- and middle-income countries.
The eight papers in this supplement, together with the broader discussion points articulated in the accompanying editorial, represent, on the one hand, significant progress in operationalizing global guidance pertaining to home fortification with MNPs; and on the other, highlights how we can advance the science of implementation around the delivery of such complex programs, and the methodological approaches by which this can be achieved.
Since its inception in 2015, SISN has aimed to be at the frontlines of these conversations on implementation in nutrition, and several of the Society's current and past Board Members contributed to this supplement, including our Past President, Dr David Pelletier who co-authored the editorial with Dr Saskia de Pee from the World Food Program.
In their editorial, they state: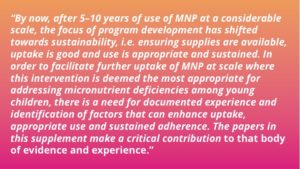 They go on to report the lessons learned from each study that can be used to inform future work in this area. And in reviewing these key features, the authors highlight the relatively limited range of factors affecting adherence examined, as well as the limited range of research designs and methodologies adopted. As the science of implementation develops in nutrition there is a need to explore a broader set of factors affecting adherence within the other all domains of the SISN Framework, including some organizational- and system-level aspects, and to take advantage of existing experiential knowledge when scientific knowledge is not yet available.
The supplement "Learning to Effectively Deliver and Promote Adherence in Micronutrient Powder Programs Through Implementation Research" can be accessed here. We encourage you to read it and please share your comments, reflections and questions on our LinkedIn or Twitter feed or write to us at info@implementnutrition.org.