The Six Components of the Implementation Science Initiative in Kenya and Uganda
We are excited to be partnering with the International Initiative for Impact Evaluation (3ie) thanks to  grant from the Bill & Melinda Gates Foundation (BMGF) on the Implementation Science Initiative. This blog is based on a brochure produced by the Project Team to provide background on the project and an update on progress. Download a PDF version of the brochure here.
Learn more about ISI during our upcoming webinar on February 26th, 2020 at 9am EST. Read more here.

The Implementation Science Initiative (ISI) seeks to apply an implementation science (IS) approach and create a galvanized coalition of policymakers, program actors, and researchers in order to improve the implementation of Iron and Folic Acid Supplementation (IFAS) programs for women in Kenya and Uganda. The initiative will provide the opportunity to learn how to build the capacity for and practice of IS through a facilitated process of learning-by-doing.  The ISI has four interlinked objectives in each country:
Strengthen capacity on IS at the country level
Strengthen interaction and knowledge exchange among policy, program, and research actors
Strengthen implementation of IFAS
Increase knowledge at country and global levels about how to apply IS in nutrition programs
3ie and SISN are working with URC in Uganda and FHI360 in Kenya to provide the implementation arena for the initiative. More specifically, the initiative consists of 6 components which are described in detail below: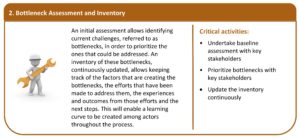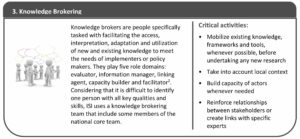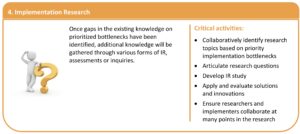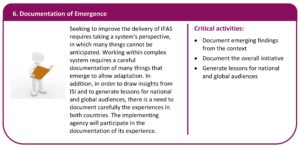 Since 2018, the Core Teams, which include at least a senior nutrition expert from an NGO, a senior Ministry of Health nutrition official, researcher(s) and a project manager/knowledge broker have been working together to operationalize the six components of the initiative in each country. The completion of ISI will lead to both tangible and intangible benefits. Intangible outcomes can be difficult to assess, but are no less important. The following definitions can help discern and value the different types of outcomes:
Intermediate accomplishments are outcomes that may appear of small importance (e.g. relationship created among partners), but that are often a pre-requisite for the attainment of a major accomplishment. These outcomes include:

Shared vision for the IS approach
Effective working relationship among key stakeholders
Increased leadership role by the core team members on IS in the country
Common agenda on bottlenecks to address
Agreement on the research questions for IR
Trust among key stakeholders
Enhanced skills of local knowledge brokers in the five role domains
Enhanced capacity for IS in country
Policy briefs to share key insights
Major accomplishments are outcomes that are easily recognized as they are the most expected ones for which actors strive for. These outcomes include:

Enhanced understanding of bottlenecks related to IFAS (bottleneck assessment report and bottleneck inventory)
Creation of a platform for IS in country
Increasing recognition of core team members as emergent leaders of IS
IS network in country and linked to global level
The planned tangible products that will emerge from the ISI experience include:
Tool box for building capacity and applying an IS approach at the country level

This toolbox includes various guidance notes that can be used by other countries for nutrition interventions at large: theory of change, knowledge brokering, bottleneck assessment and inquiry, focused ethnographic study, effectiveness-implementation hybrid design, strategic system thinking, etc.

Webinars on diverse aspects of ISI

Components and principles of ISI, methodology, insights on IFAS delivery system, etc.

Journal articles

Effectiveness of the enhanced interventions for IFAS (one article per country)
Process and experience of trying to apply an IS approach in country
Contribution of using an IS approach in country (contribution analysis)
The core teams are currently planning the conduct of their IR studies (component 4) which will be the topic of our upcoming webinars. On December 4th, the ISI Team from Uganda will describe their quality improvement approach and implementation strategies used to support the delivery of the IFAS intervention, and present the preliminary findings from the baseline data collection of a Type III effectiveness-implementation hybrid study.  Register here to attend this live event.
In early 2020, the ISI Team from Kenya will also share their experiences conducting a focused ethnographic study (FES). Further details will be announced in mid-December.
To keep updated with the progress of ISI, check out our activities page here or contact us.
Have an idea or a comment on any of the issues discussed above? We welcome your feedback – you can comment on this post on our LinkedIn feed or write to us at info@implementnutrition.org.